Hello fellow judges!
In today's post, I would like to share with you some highlights and information about how the Amonkhet wave of Judge Tokens went. We will also speak a bit about the future of the project as we have Ixalan token designs ready.
Amonkhet wave aftermath
Amonkhet wave consisted of 2/2 Zombies, 1/1 Warriors and later also some 4/4 eternalized Zombies. There were several smaller print runs during the wave and we produced 19 740 token pieces in total. These pieces were distributed during various tournaments and we also accommodated 43 orders from judges worldwide. See below the coverage per countries: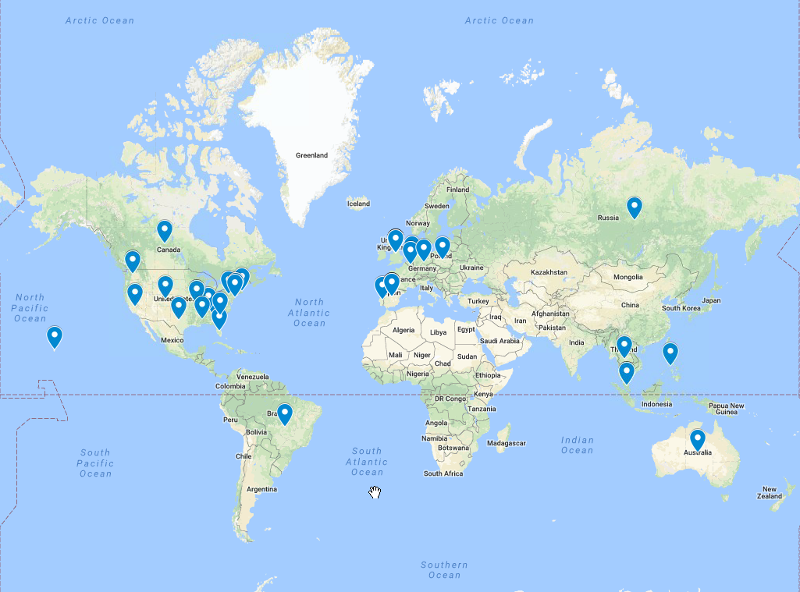 The accumulated printing costs reached USD 760. The project received donations in various forms (direct transfers, physical gifts) worth of USD 340. For these funds and also a general support we would like to specially thank to:
Tomáš Joska, Hsu Tienming, Miquel Àngel Moya, Mónica Gonzalez, Warren Hawkins, James Do Hung Lee, Angela Chandler, Nicholas Zitomer, Steven Chendra, Mikhael Dominico and Yopi Effendi!
(I apologize if I missed someone. You know who you are and we thank you as well!)
During the Amonkhet wave, we have also received a lot of valuable feedback. Thank you for that! We are continuously trying to improve the project to better serve the Judge Program.
Ixalan wave
Tan Zie Aun
, our magnificent cartoonist and graphical lead, created two new wonderful designs to be used during Ixalan season - a Treasure and a 3/3 Dinosaur.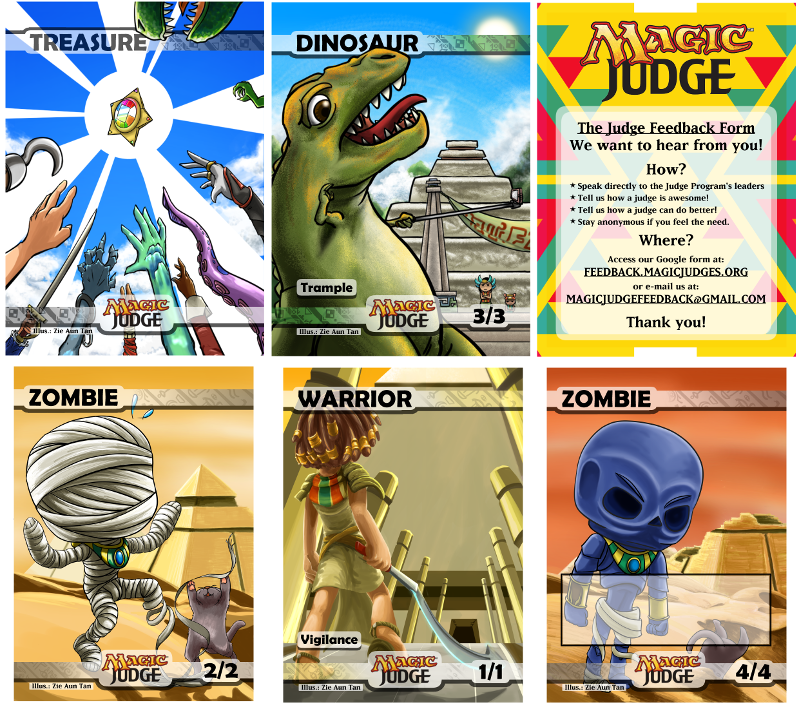 For Ixalan, there is a
change in our processing
: we are opening
a pre-order window
at this moment. After the pre-order window closes (somewhere around October 10), we will collate the orders and have One Big Print Run. Then we will try to distribute the packages as fast as possible.
With Ixalan, we are also
changing the financing scheme
. The major part of the print run will be covered by crowdfunding. The crowdfunding price of a 50-token pack is set at USD 2.10 or EUR 1.90, which is to be settled by the judge who places the pre-order.
So what are you waiting for? Go to
the pre-order form
at once! :-)
Milan Majerčík
Judge Tokens Project Lead
P.S.: Do not reply to this thread. In case you want to share your thoughts with us, send an e-mail to
judgetokens@gmail.com
, please.
Edited Milan Majerčík (Sept. 27, 2017 10:53:50 AM)